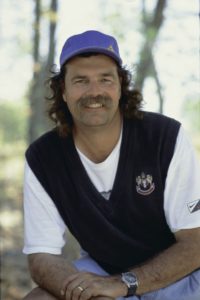 Royal New Kent was designed by Mike Strantz as his third solo effort. Strantz is regarded as one of the most influential golf architects of the past 25 years even though he designed just seven courses individually. Strantz's career was cut short, losing his battle with cancer in 2005 at the age of 50.
All of his courses have been ranked in the "top 100" by Golf Digest, and courses that are currently ranked include Caledonia (#27 GolfWeek, #73 Golf Digest), Monterey Peninsula (#61 Golf Digest), Tobacco Road (#71 Golf Digest) and True Blue (#77 Golf Magazine). Prior to that he was Tom Fazio's chief shaper and on-site designer, often credited for his work on many of Fazio's iconic courses.
Strantz's layouts are known for being unique and memorable, and this is true of this Course. The publicity campaign for the club called the course "an inland links" and a tribute to Royal County Down and Ballybunion," two of Strantz's favorite golf courses. Trying to emulate those courses is a lofty goal, however if you imagine plucking up Royal County Down by its roots and transplanting it, bunkers, dunes, and fescue included, to a hilly tree-lined landscape, then you'll have an idea as to what Royal New Kent is like.
Mike Strantz has earned the golf world's recognition as a true artist, architect and golf designer:
1998 Architect of the Year – Golf World
1999 #1 Golf Architect Highest in Demand – Golf World
2000 Top 10 Greatest Golf Architects of All Time – Golf World
All of his courses have been listed in Top 100 Best Modern Courses in America – Golf Digest